The Tourism Authority of Thailand (TAT) on Friday (28 August, 2015) welcomed Mr. Yuthasak Supasorn as the new governor. His official start date is 1 September, 2015.
Mr. Yuthasak, 49, was appointed by the TAT Board of Directors as the TAT Governor after Mr. Thawatchai Arunyik who completed his term at the end of March 2015. He was previously the executive vice president and chief financial officer of Thailand's MCOT Public Company Limited (MCOT).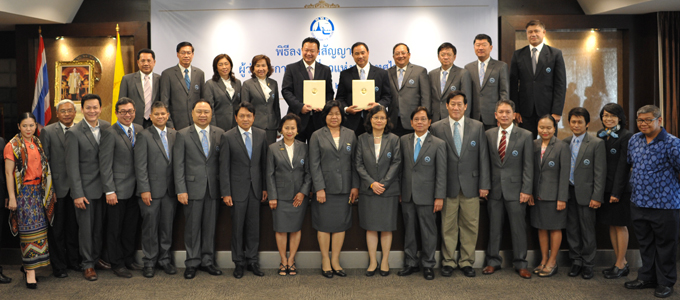 Mr. Kalin Sarasin (back row, fifth from right), Chairman of the Board of TAT, and Mr. Yuthasak Supasorn (back row, fifth from left) at the recent contract signing ceremony to officially appoint Mr. Yuthasak as the new TAT Governor. Also presented in this picture are TAT's Deputy Governors and senior officials.
Commenting on his appointment, Mr. Yuthasak said, "I'm very honoured to have been selected to this very important post. Thailand has excellent tourism products and services and that TAT itself is staffed by capable people who have done a great job in helping to make tourism one of the main pillars of Thailand's economy."
Mr. Yuthasak said he planned to introduce three immediate strategies upon taking the Governor post at the TAT, including reassuring global confidence and stimulating domestic tourism in the wake of the recent tragic incident in Bangkok, as well as creating a better TAT.
On reassuring global confidence, TAT's domestic and overseas offices are providing regular updates on the 'business as usual' situation in Thailand and reiterating that the country continues to be a welcoming tourist destination. In December, TAT will organise a major event to draw tourists.
Promoting domestic tourism will also be a top priority, he said, especially for students and senior citizens. He said new ways would be found to promote domestic travel not just during school holiday periods and weekends but during weekdays, all-year.
On creating a better TAT, Mr. Yuthasak said, "I plan to further strengthen the confidence among the people within and outside the organisation and to build on the existing 'TAT SPIRITS' concept to promote good governance and transparency as well as to reinforce TAT's positioning as the 'Guardian of Thai Tourism' to extend its expertise to other organisations."
He added the plans were to build on the TAT's strong foundation to improve cooperation with other government agencies, the private sector and partners abroad, and to streamline internal procedures to upgrade the operational efficiency of the TAT, a state enterprise.
Mr. Yuthasak (left) signed his appointment contract as the new TAT Governor at the official signing ceremony held on 28 August, 2015 at the TAT Headquarters.
Profile of Mr. Yuthasak Supasorn
Date of birth: 8 January 1966
Place of birth: Roi Et, Thailand
Marital status: Married
Education:
Professional Experience
January-July 2015: Executive Vice President and Chief Financial Officer MCOT Public Company Limited
2012-2014: Senior Advisor, Regional Development Center, Institute for Good Governance Promotion Office of the Public Sector Development Commission
2009-2012: Director General, Office of Small and Medium Enterprises Promotion, Ministry of Industry
2007-2009: President, National Food Institute, Ministry of Industry
2004-2006: Executive Vice President, National Food Institute, Ministry of Industry
2002-2004: Policy and Planning Analyst, Office of National Economic and Social Development Board
1996-2002: Investment Promotion Officer Office of the Board of Investment
You may also like:
About the Author: vasin
Current: Editor of At-Bangkok.com, Managing Director at dp-Studio Co. Ltd. Past: Lecturer, Instructor at School of Architecture King Mongkut University of Technology, Architect at RNL Architect, Architect at Roth Sheppard Architects Education: School of Architecture Chulalongkorn University Bangkok Thailand (B.Arch) School of Architecture University of Arizona USA - School of Architecture University of Colorado, Denver USA (M. Arch)